Drones have yet to hit the mainstream, and most consumers you speak to, have never flown a drone. Having said that, if the existing market research is any indication, that is going to change very soon.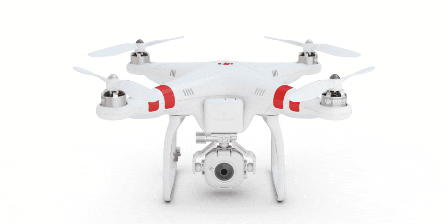 The truth is, the question of just how large the drone market is, is up for debate. Between the somewhat subjective definition of what constitutes a drone and the fact that nearly all drone companies are privately held, we don't really know just how large this market is. What we do know, however, based on every metric out there, is that the drone market is growing fast.
Drones are big and only getting bigger.
According to Gartner, drone sales grew approximately 60 percent last year to 2.2 million, and revenue grew 36 percent to $4.5 billion. According to the Consumer Technology Association: last year people bought 2.4 million hobbyist drones, more than double the 1.1 million sold in 2015. And that is in the U.S alone. Whatever the number is, the market is growing and the demand for drones is increasing.
You don't have to be a market analyst to notice that this growing market is primarily dominated by one player, DJI. There are several competitors in the market, and some of them have built great products. Companies like Parrot with their Bebop line, Yuneec, and even GoPro with their Karma drone. While some of these products are solid, they have not prevented DJI from cornering 50-75 percent of the market, depending who you ask.
We are in early days of drones, but taking a closer look at DJI sheds some light on how the company has achieved its current success and much of it has come from a familiar playbook, that of Apple, the world's most valuable public company ever — with a market cap that passed $900 billion in November, 2017.
Start premium, then work your way down.
Think about the way Apple started and how its popularity spread. Apple's first products targeted the premium design community, and the original Macintosh was not built for mainstream audiences. Slowly but surely, Apple worked its way down to non designers to the point that everyone wants a Mac.
DJI has its high-end professional drone line, but that aside, it became best-known for its Phantom drones, which are high performance, and priced accordingly. Slowly but surely, DJI began to target wider audiences with its Mavic Pro, and most recently, the Mavic Air, which are priced more conservatively. The Spark, at only $500 really brought it home and allowed anyone who was even remotely interested in drones, to become a "Droney."
Detail Oriented
You might not be an Apple fanboy, but surely, you can recognize that the detailed nature of the Apple experience, from the manufacturing, to the meticulous nature of their keynotes, down to the actual product packaging, is unparalleled in the industry.
If you have ever unboxed or flown a DJI product, the similarities are obvious and glaring. It is no wonder, Apple and DJI signed an agreement back in 2016 to distribute DJI products in Apple stores. If you have seen those drones on the shelves of your favorite Apple store, surely you would agree that they fit right in.
Hardware Focused
Yes, both Apple and DJI make hardware and software. That was perhaps what differentiated Apple from its competitors, the fact that its hardware and software were designed and optimized to work together in harmony. Having said that, I don't think anyone would call Apple a software company. In fact, one might go out on a limb and say that while Apple's hardware leads the industry in terms of polish and execution, its software, from iTunes, to iOS, and even some of its in-house Mac OS or iOS apps leave room for improvement.
DJI makes fantastic hardware, but if you have spent any time running DJI software updates, you'd agree that hardware is DJI's bread and butter, and software, they can and should continue to acquire software companies to enhance their offering.
Inspiring Ads, Motivational Message
Apple ads, from the earliest 1984 ad, to the I'm a Mac ads, all the way to today's iPhone ads, are memorable and often, beautiful. It has become Apple's thing. The same is true for DJI. Their ads, with the famous aerial footage captured by their drones, as well as the somewhat difficult to grasp cutting edge aviation technology displayed in their ads, always leave you speechless. If I had to guess, I would say that whoever is writing the copy for some of the DJI ads we have all seen, previously did so for Apple. They are that similar. No specs, no complicated tech talk, but just pure beauty and inspiration created by the company's flagship product line.
Even Down to the Naming Convention
If all that wasn't enough to convince you that Apple and DJI share some DNA, take a look at the naming convention of their products. "iPhone", not "The iPhone", just "iPhone." "Mavic", "Phantom", "Spark". Clean and simple.
Then there are the actual products. Macbook Pro? Macbook Air? Mavic Pro. Mavic Air. You might call this sheer coincidence, or maybe the two companies, through their partnership, agreed on a shared naming convention.
I think it is more. I think these two companies understand how consumers think, and have mastered the ability to build superior brands that people love.
In the early days of Apple, Steve Jobs and Steve Wozniak were told by everyone that there is no market for personal computers. "Why does everyone need their own computer?" They believed otherwise, and the rest is history. Today, if you have not yet experienced drone technology, you might be asking yourself "Why would I ever need a drone"? DJI believes otherwise and they are quickly achieving total market dominance, both in terms of market share as well as brand aware and mind-share.
DJI is building the Apple of drones and the company believes the market for drones is just getting started.